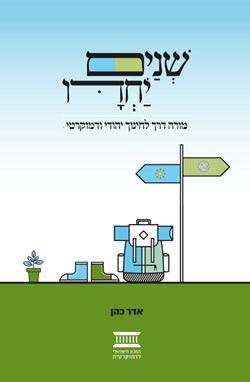 Both Jewish and Democratic: A Handbook for Israeli Teachers
Written By:

Adv. Adar Cohen

Publication Date:
Cover Type: Softcover
Number Of Pages:

83

Pages
Price: 64 NIS
A handbook that presents a dialectic approach to Israel's "Jewish and democratic" identity and presents practical suggestions for integrating Jewish education and education for democracy. Written for teachers of all subjects in all streams of Israeli education by Israel's former Superintendent of Civics Education.
read more
There is a deep tension in Israeli society between the two facets of Israel's "Jewish and democratic" identity. Many Jews in Israel see democracy as a threat to what they define as "Judaism," while others view "Judaism" as imperiling democracy. This is a wake-up call to educators, summoning them to deal courageously with these sensitive issues instead of avoiding them in the classroom.
This handbook presents a dialectical approach and offers a variety of practical suggestions for integrating Jewish and democratic education.
How can teachers facilitate meaningful study of meaningful texts?
How can teachers educate toward the asking of questions?
How can teachers expose students to diverse opinions and identities?
How can teachers help students practice engaging in dialogue?
It presents a variety of examples in which Jewish and democratic texts studied together in the classroom can help convey to students the complexity of the situation. 

The handbook was designed for teachers of all subjects, in all grades, and in all streams of Israel's education system, who deal with issues of Jewish and democratic identity and culture. It is especially intended for student teachers and teachers at the start of their careers, who should be made aware of the issues presented in its pages and consider them as they formulate their professional identities as educators.
Click here for the E-book (Hebrew)

The book launch will take place on 9.11.2015. Click here for additional details on the event.
The Dov Lautman Conference on Educational Policy is the product of many months of work by researchers and project teams who formulate plans of action for instilling democratic values in the Israeli education system. The conference focused on the following questions: Is Israel doing enough in order to educate the young generation about citizenship in a democratic society? Is education for democracy the right tool for this? If so, how should it be used? What is the role of the Israeli education system in this field?
Adar Cohen is a Researcher at the Israel Democracy Institute and the former Inspector of Civics Education for the Israeli Ministry of Education.