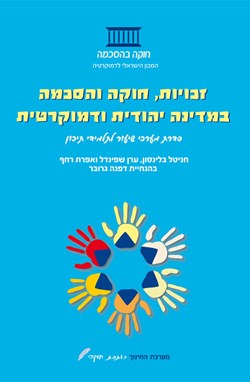 Rights, Constitution, and Consensus in a Jewish and Democratic State
Lesson Plans for High School Students
Written By:

Dafna Gruber,

Eran Spindel,

Efrat Rahaf,

Hanital Belinson

Publication Date:
Cover Type: Softcover | Hebrew
Number Of Pages:

212

Pages
Center: Constitution by Consensus
Price: 45 NIS
A set of lesson plans for students in grades 9–11, which was developed as part of IDI's Constitution by Consensus project. The lesson plans focus on democracy, human rights, and the need for a constitution.
read more
"Fixing the world means fixing education," said Janusz Korczak. The goal of the educational program at the Israel Democracy Institute is to enhance education for democracy in Israel. The stability and quality of democracy depend on the extent to which citizens internalize the rules of the democratic game and democratic principles. Schools play a decisive role in this process. During the past several years, the IDI has produced teaching materials to help schools fulfill this important role. The authors' point of departure is that such material should be based on active and experiential learning that attracts students' interest and heightens their desire to engage in in-depth study of these topics.
This set of lesson plans, intended for students in grades 9–11, covers concepts of democracy, human rights, and a constitution. The lesson plans were written as part of the Constitution by Consensus process, launched and spearheaded by the Israel Democracy Institute, under the leadership of former Israeli Supreme Court President Meir Shamgar. The Constitution by Consensus process was meant to trigger constitutional discourse in Israel and, ultimately, to lead to the enactment of a constitution for Israel, based on a broad public consensus. The dilemmas regarding the future constitution of the State of Israel are related to fundamental questions about the nature of the state. It is important to include high-school students, young people who are on the verge of their civilian lives, in these deliberations.
A pilot edition of the lesson plans was published in 2003. They were tested in various schools and met with great success. Over time, feedback was accumulated and new ideas were added, and the Constitution by Consensus process matured into a draft constitution, available for public study. The current edition includes changes, supplements, additional activities, and a new chapter designed to involve students in the public discourse about a constitution that would be appropriate for the State of Israel.