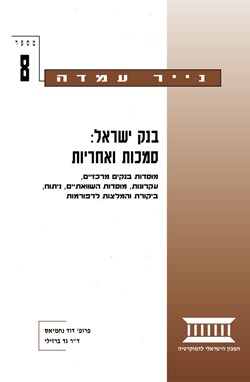 Accountability: The Bank of Israel
Policy Paper No. 8
Written By:

David Nachmias,

Gad Barzilai

Publication Date:
Cover Type: Softcover
Number Of Pages:

47

Pages
Price: 45 NIS
This paper is the second of three papers in a comparative study initiated by the Israel Democracy Institute on accountability and Israel's Attorney General, the Bank of Israel, and the State Comptroller.
read more
This position paper is second in an extensive and comparative research conducted by the IDI on the Attorney General, the Bank of Israel, and state censure.

Each of these institutions has a professional-specialized role; however, the three combined constitute major components of the governmental system.

From a regime perspective these three institutions share common elements; in particular, the normative expectations that they will enhance and preserve democratic governership, function within a framework of checks and balances, be reported to and be exposed to public scrutiny - these expectations are all fulfilled.

From a comparative perspective, the questions raised by this comprehensive study touch upon the contribution of these entities to democratic governership.