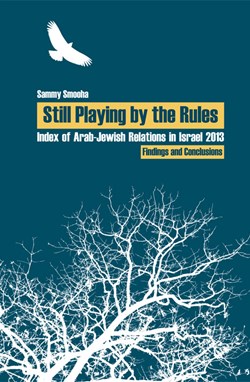 Still Playing by the Rules: The Index of Arab-Jewish Relations in Israel 2013 (Hebrew)
An Index of Arab-Jewish Relations in Israel
Written By:

Sammy Smooha

Publication Date:
In Israel today, there are 1.4 million Arabs. What do they think about Jews, and about their lives as a minority in Israel? And what do Israeli Jews think about Arab citizens? This book measures and analyzes the relationship between the Jewish and Arab segments of the Israeli population.
read more
There are 1.4 million Arabs (18% of Israel's citizens) living in Israel today. They are part of Israeli society, but also of the Palestinian people, who are considered to be Israel's enemy. What do they think of Jews, the Israeli state, and their life as a minority? Do they trust the Jews and the state? Are they willing to be integrated in residential neighborhoods, schools, and government coalitions? Do they fear violence by the authorities? Is their identity Israeli or Palestinian? Do they accept Israel's right to exist or support its replacement by a Palestinian state? Do they have confidence in their leaders? Do they approve of a nondemocratic struggle? And what are they willing to do so that the Jews and the State will treat them with equality, dignity, and trust?

And what do the Jews think of the Arab citizens? Are they ready to have them live in their neighborhoods and be part of the government coalition? Would they agree to work under an Arab supervisor? Are they afraid of an Arab uprising? Do they accept the Arabs as an equal minority? Is their identity Jewish or Israeli? Do they acknowledge the Nakba? Do they favor the cession of the Triangle to a Palestinian state? And what are they willing to do so that the Arabs will feel that Israel is their state, too?

The Index of Arab-Jewish Relations in Israel addresses these and many other questions. It has been conducted annually since 2003, on the basis of representative surveys of the Arab and Jewish sectors in Israel.

The current volume presents the findings of the 2013 Index. They reveal a complex picture of the attitudes of Arab and Jewish citizens towards the state and towards each other. The 2013 Index indicates a halt in the aggravation of Arab attitudes, whereas Jewish attitudes continue to be stable. This finding is at variance with the prevalent view. Only subsequent Indexes will reveal whether the unexpected change is a true turning point.
This publication was made possible by the generous support of:
The Rich Foundation
The Fohs Foundation
The Charles H. Revson Foundation
The Alan B. Slifka Foundation
Chen and Orni Petrushka
Acknowledgments 9
Chapter 1. About the Index
Chapter 2. Main Findings of the 2013 Index
1. Separation
2. Image of the Other
3. Alienation
4. Deprivation
5. Distrust
6. Threats
7. Collective Memory
8. Legitimacy of Coexistence
9. Regional Disputes
10. Regional Integration
11. Identity
12. Minority Leadership
13. Autonomy
14. Means of Struggle
15. Options for Change
16. Evaluation of the State of Relations
17. Internal Differences and Predictors
18. Trends of Change
Chapter 3. Conclusions
1. A Halt in the Trend of Hardening Arab Attitudes
2. Willingness to Make Concessions
3. National Struggle
4. The Arab Leadership
5. Peace-Makers or Spoilers?
6. Operative Consensus
7. Conditions of Sustained Calm and Stability
8. Mutual Red Lines
9. A New Formula for a Jewish and Democratic State


Prof. Sammy Smooha is Professor Emeritus of Sociology at the University of Haifa and the Israel Prize laureate for Sociology in 2008. He studies society and regime in Israel in a comparative perspective, with particular attention to the Arab-Jewish divide.