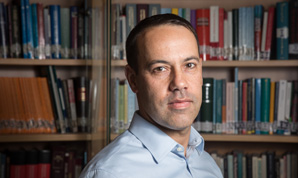 Dr. Jesse Ferris
 Jesse Ferris joined IDI in the fall of 2008 as Vice President of Strategy. His responsibilities include international programming and development.
After graduating from Ort Everett high school in Hatzor Haglilit, Jesse enlisted in the IDF, where he served five years as a medic, combatant, and team leader, attaining the rank of Captain in the reserves. He then went on to earn a BA with distinction in History from Yale University. Upon graduating from Yale, Jesse co-founded Marketbee Technologies, an enterprise software company based in Jerusalem and San Francisco, where he served as director of marketing and product development until 2002.
Jesse received his Ph.D. in Near Eastern Studies from Princeton University in 2008. His doctoral thesis, entitled Egypt, the Cold War, and the Civil War in Yemen, 1962-1966, earned him a Mellon/ACLS Fellowship in 2007, a Social Science Research Council Fellowship in 2007, and the Bayard and Cleveland Dodge Memorial Thesis Prize for Best PhD Dissertation in 2009. Since graduating from Princeton, Jesse has held two post-doctoral positions: a Mellon/ACLS Recent Doctoral Recipient Fellowship and a Lady Davis Postdoctoral Fellowship at the Hebrew University in Jerusalem. His research interests include democracy and foreign policy, international politics of the Middle East, Arab strategic culture, Russian and American foreign policy, and Israeli national security.
Jesse's first book is Nasser's Gamble: How Intervention in Yemen Caused the Six Day War and the Decline of Egyptian Power, published in 2012 by Princeton University Press. He is the winner of the 2013 Chaikin Prize, awarded annually to an Israeli author for the best book on a geostrategic topic pertaining to Israel or the Middle East.