Press Release
Out of Sight: How Do Israeli Parties Perform on Social Networks?
Yesh Atid, Zionist Camp and Meretz have the strongest online presence, while the Joint List and Yisrael Beiteinu lag behind.
A new Israel Democracy Institute (IDI) study, edited by Prof. Gideon Rahat and Avital Friedman, reveals significant gaps between the online effectiveness of party posts in comparison to individual Knesset members (MKs).
The study found that MKs average 11 times the engagement rate as compared to the party he or she represents.  For example, with regards to Yisrael Beiteinu, the average post uploaded by a Knesset member who belongs to the party receives 87 times the engagement of one that appears on the party's dedicated Facebook page. Similarly, Joint List MKs who post online receive 113 times the engagement as compared to the party's page. Moreover, this trend is not only an average, but also reflects the median, meaning that the data is not the result of a couple of Knesset members' online performances boosting the average for all surveyed MKs.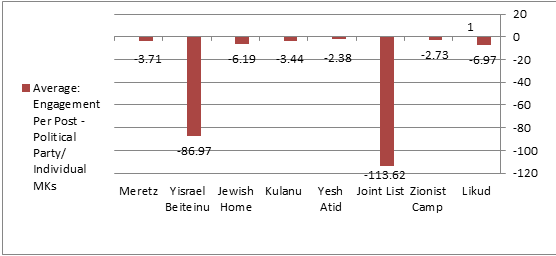 MK Ayman Odeh (Joint List) is the party leader with the widest margin between his individual posts and the engagement generated by his respective party page. In second place, Defense Minister MK Avigdor Lieberman triggers 114 times more engagement than the Yisrael Beiteinu party he leads. Prime Minister Benjamin Netanyahu ranks third among party leaders, with 70 times the engagement of the official Likud Facebook page.
Among the parties, Yesh Atid has the greatest online presence, with an average post generating 590 reactions. Next, Meretz weighs in with 587 interactions on average. In third place, the Zionist Camp's official party page generates an average of 572 responses per post. At the bottom of the online party page engagement list are Yisrael Beiteinu, whose posts lead to a mere 16 reactions on average, and the Joint List, which does even worse with only 11 responses.
It should be noted that the Zionist Camp actually has the highest party page engagement rate according to this study, with an average post leading to 671 online responses. However, the methodology behind this study was based on the highest number of online followers.  The Zionist Camp's online engagement rates were analyzed based on this criterion (similar to the approach taken with the Jewish Home and Joint List party pages).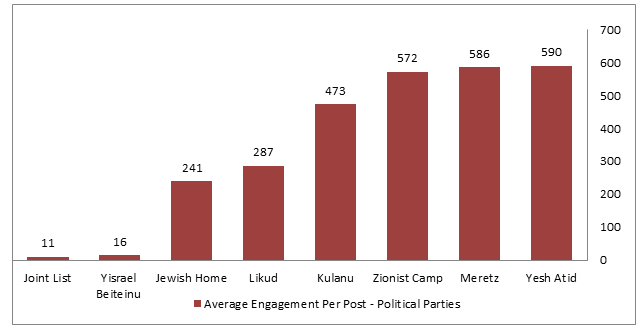 With regards to the amount of posts uploaded during the period in which this study was conducted, the Likud tops the list with 474 posts published, followed by the Zionist Camp with 125, Meretz with 116 and Yesh Atid with 95. Bringing up the rear are the Jewish Home party page, which only posted five times and Yisrael Beiteinu, with 51 posts published. In addition, the party that has the largest online following is Meretz, while Yisrael Beiteinu has the least with only 5,200 followers.
* This study does not include the Shas and United Torah Judaism parties, as they do not have official Facebook pages.