Op-ed
International Disabilities Day 2013: Human Rights and Judaism in Action
In honor of International Day for Persons with Disabilities, Rabbi Dr. Benjamin (Benny) Lau updates us on IDI's efforts on behalf of people with disabilities and reveals that people with guide dogs are now allowed to access the Western Wall.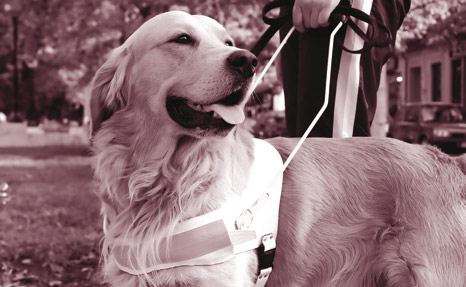 Rabbi Dr. Benjamin Lau's activities as part of IDI's
Human Rights and Judaism in Action Project
are supported by
The Ruderman Family Foundation


What new developments are there in integrating people with disabilities in the community in Israel? IDI's Human Rights and Judaism program deals with the issue of human rights in Judaism in general. The project that I head within it—Human Rights and Judaism in Action—focuses on the rights of people with disabilities and their integration in Israeli society and religious life. This program reminds us that when you focus on democratic values you are in essence dealing with people, with individuals.
People with disabilities are first and foremost people. And when we focus on people, our primary task is to bring everyone into the circle of humanity. That is where each and every person belongs.
During the last year, IDI's Human Rights and Judaism in Action project dealt with two serious issues. The first concerned people who use guide dogs who wanted to enter the Western Wall plaza but found that they were prohibited, because animals are not allowed at the Kotel. Through an intensive process that involved research, work in the field, public awareness events, and cooperative efforts with the Rabbi of the Kotel, we were able to reach our desired result and a solution to the problem was found. Today, every person with a guide dog can, in fact, reach the stones of the Western Wall. That was our first act of repair.
During the last few months, we have been addressing a second issue: the needs of people who do not speak with words but who communicate through sign language. Are these people accepted as equals in religious life? Are they able to marry in the same way as other people do? Or does the fact that they speak in sign language give them a different status? We are currently in the midst of dealing with this issue at the present time and are working together with the Chief Rabbinate in order to change the position and status of people who are deaf so that they can be considered equal to all other people in society.
The project's topic of research during the current academic year is people with mental and developmental disabilities. We are focusing on the need to take these people out of institutions and to include them in communities, in bar mitzvah ceremonies, in marriage, in family life. A variety of social organizations are involved in this effort, and IDI is working with them cooperatively, hand in hand. Together, we are attempting to break down the barriers and see the human "face" of all those who live with us and around us.
---
Rabbi Dr. Benjamin (Benny) Lau is head of IDI's Human Rights and Judaism in Action project.