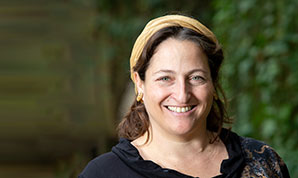 Shlomit Ravitsky Tur-Paz
Shlomit Ravitsky Tur-Paz is the Director of the Joan and Irwin Jacobs Center for Shared Society and head of the Program on Religion, Nation and State.
Shlomit Ravitsky Tur-Paz co-founded and co-directed Itim – the Jewish Life Advocacy Center – an organization that committed to increasing participation in Jewish life by making Israel's religious establishment respectful of and responsive to the diverse Jewish needs of the Jewish people. In this capacity, she has appeared before the Rabbinic Courts on issues of conversion, marriage, and divorce.
Ravitsky Tur-Paz also directed Beit Midrash Elul – a center for study of Jewish texts from a pluralistic perspective. In addition, she has served as a lecturer and group facilitator on Judaism and gender and has an extensive background in promoting Jewish pluralism and culture in Israel.
Born in Jerusalem, Ravitsky Tur-Paz holds bachelor's and master's degrees in law from the Hebrew University in Jerusalem, has studied Jewish Studies and Philosophy, and is a graduate of the Mandel School of Educational Leadership. She has also worked with the Israeli Ministry of Education, training educators on pluralistic Judaism and Israeli identity and culture, and serves on the board of Panim—the Israeli Judaism Network. 

Credit: Alex Kolomoisky