Research
Education
Chap. 2
The ultra-Orthodox educational stream makes up a substantial segment of the Israeli educational system - 24% of the Jewish school system, and 18% of the system as a whole. In the 2016/17 school year, about 308,000 students studied in the ultra-Orthodox educational system - including both elementary and secondary schools. The number of ultra-Orthodox students has increased rapidly over the years, alongside the introduction of systemic and structural changes, such as the establishment of the Division for ultra-Orthodox Education in the Ministry of Education and the establishment of ultra-Orthodox State schools. 
Matriculation Exams
In the 2015/16 school year, 50% of ultra-Orthodox girls took at least one matriculation exam, as compared with only 31% in 2008/09. At the same time, there was a slight decline in the percentage of boys taking matriculation exams - from 16% to 14%. In total, only 12% of ultra-Orthodox pupils were awarded matriculations certificates, as compared with 77% of pupils in the state and state-religious school systems.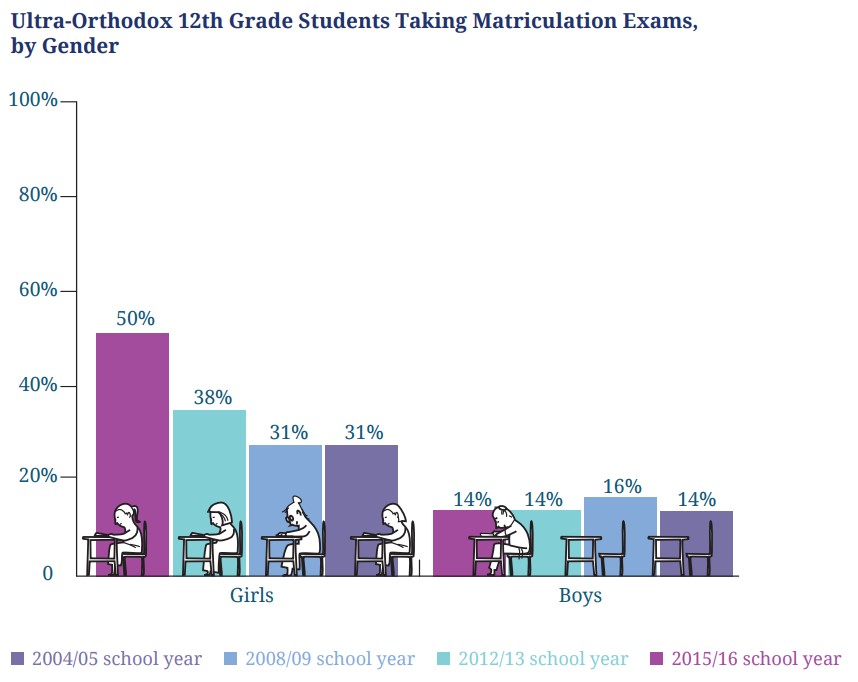 Yeshiva and "Kollel" Students
In 2013-2014, the number of students in yeshivas and in "kollelim" (full-time studies of Jewish subjects and Talmud for married young men) was smaller than in previous years, but beginning with 2015 the number once again rose. In 2017, 124,450 ultra-Orthodox men studied in educational frameworks designated for students age 18 and over - 64% among them, in "Kollels". The data reflect a 6% increase, surpassing the natural population growth of the ultra-Orthodox community, to which these students belong.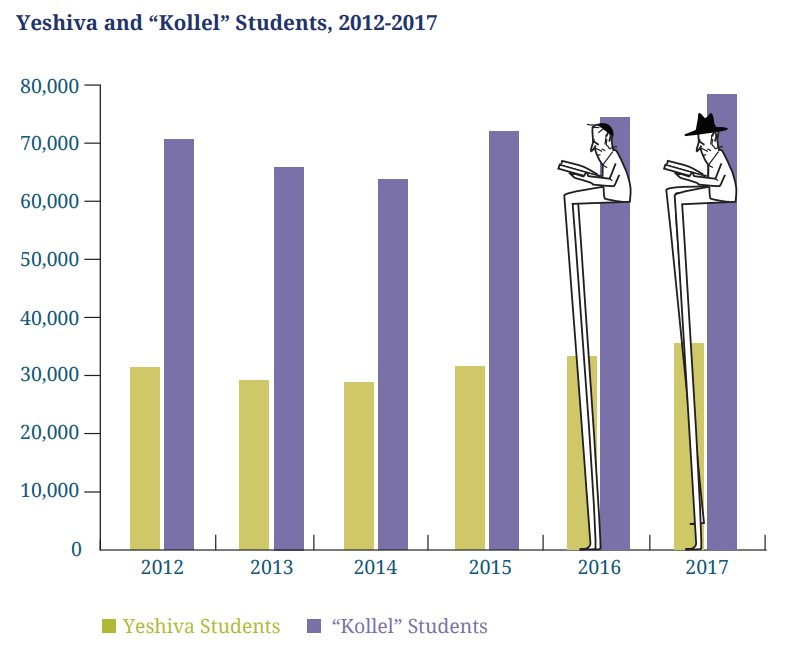 Academic Studies
For many years, the number of ultra-Orthodox students enrolled in programs for academic degrees was very small. However, in light of changing demands of the labor market and the establishment of academic frameworks adapted to the needs of the ultra-Orthodox community, there was a rise of 150% in the number of ultra-Orthodox students studying for academic degrees between 2010-2017. 
In the 2016/17 academic year, approximately 9,400 students studied in academic institutions (not including the Open University or programs leading to a diploma rather than to an academic degree), 70% of them women. 
Ultra-Orthodox students tend to study subjects which will make it possible for them to work within the ultra-Orthodox community (education, teaching, and para-professional professions) and those - such as law and business administration - which open the door to employment in "practical" professions. In 2016/17 - for the first time - there was a slight drop in the number of ultra-Orthodox students , as compared with the previous year. This can be attributed in part to the drop in the number of ultra-Orthodox-from 12% in 2015/16 to only 8% in 2016/17, as a result of more stringent conditions and cutbacks in scholarships.