Participation by invitation only

Live

Hebrew
50 Year Anniversary of the Six-Day War: Possible Political Scenarios and their Implications
5.24 | INSS, Hayim Levanon 40, Tel Aviv-Jaffa
6.4 | The Israel Democracy Institute, Pinsker 4, Jerusalem
This week, the State of Israel is marking the 50th anniversary of the Six-Day War. The ramifications of this historic event accompany us to this day, with the issue of Judea and Samaria remaining unresolved. In a surprising coincidence, US President Donald Trump, who a few months ago declared, during Prime Minister Benjamin Netanyahu's visit to Washington, that he supports a political solution that "both sides want," will also be in Israel this week.
What are the implications of each of potential political solution to the territories, Judea and Samaria? How will Israel be affected in each scenario? What are the implications for democracy, security, Arabs and settlers? What possibilities should be presented to Israel's leaders as they decide "what both sides want"?
The Israel Democracy Institute and Institute for National Security Studies (INSS) will, over the course of two days, engage in a series of compelling discussions marking the 50th anniversary of the Six-Day War.
Join us for this fascinating two-day forum, during which we will analyze the various pertinent questions and come to a greater understanding as to the possible implications for Israeli democracy.
So that they can be referred to and used in the future, the fruits of these discussions will subsequently be presented to decision makers.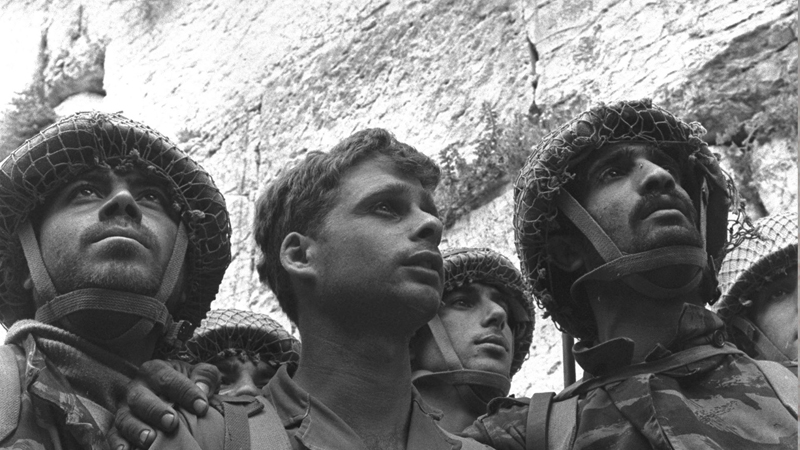 Wednesday, May 24, 2017, Institute for National Security Studies (INSS), Tel Aviv:
10:00-12:30 |  Two-State, Israeli and Palestinian, Scenario
Led by: Brig. Gen. (res.) Udi Dekel; Prof. Yuval Shany
Participants:
Lt. Gen. (res.) Moshe 'Bogey' Ya'alon, former Israeli defense minister, INSS
MK Stav Shaffir (Zionist Camp)
Oded Revivi, Mayor of Efrat
Jody Barrett, head of UNSCO Department of Political Affairs
Dr. Adv. Hiba Husseini
Dr. Yehuda Ben Meir, INSS; Dalia Halabi, CEO, Arab Center for Law and Policy, Haifa University
Prof. Mordechai Kremnitzer, IDI Vice President
1:30-4:00 |  One-State Scenario
Led by: Col. (res.) Adv. Pnina Sharvit; Prof. Amichai Cohen
Participants:
Nikolay Mladenov, UN Special Coordinator for the Middle East Peace
Yohanan Plesner, IDI President
Perry Golan, former Arab Department, Shin Bet security agency
Dr. Zipi Israeli, INSS
Khader Suad, INSS
Oded Revivi, Mayor of Efrat
Ibrahim Salameh, Director General, Interior Ministry of the Jerusalem District of the Palestinian Authority    
On May 24, 2017, the Institute for National Security Studies and the Israel Democracy Institute held a discussion on possible scenarios for the future of Israel. The discussion analyzed two possible scenarios for dealing with the impact of the Six-Day War: the two-state scenario and the one-state scenario.
The following is a summary of the points raised:
Lieutenant General (ret.) Moshe Ya'alon, former Minister of Defense: "The gap between us and the Palestinians is huge, and thus we will not reach an agreement in the foreseeable future. We therefore need to act in our own interests—separation, rather than a binational state. When Rabin presented the Oslo Accords for ratification by the Knesset, the vision he described was of a sub-state Palestinian entity. There can be no return to the 1967 borders, because they are not defensible. We need an Israeli military presence on the Jordan River bridges, and we need full Israeli security control of the Jordan Valley—broadly speaking, full Israeli security control over access to Israel by land, sea, and air, and Israeli sovereignty over settlement blocs and a unified Jerusalem.
"If Oslo has achieved anything it is the political separation from the Palestinians. They have a parliament, and so they don't need to vote for the Knesset. The next step is territorial separation, which is why I don't agree with the approach of settling every hilltop; rather, settlements should be established according to Israel's interests and the law. We also need to provide the Palestinians with territorial contiguity, and to allow the residents of Gaza to live their lives. The decisions we make need to be those that facilitate separation, and not those that block any chance of continuing the separation process. In the future, I would seek an agreement that does not involve the transfer of Jews or Arabs, and I can show you how such a map would look. It must also be stated that the current situation has consequences for Israeli society and democracy—the "price tag" attacks and Jewish terror. Therefore, one of the leadership challenges in Israel today is to maintain our moral backbone and democratic foundations within a complex reality."
MK Stav Shafir (Zionist Union): "The discourse needs to shift to a discourse of interests. For us, as Israelis, this means maintaining a democratic state with a Jewish majority, maintaining national security, maintaining Israel's international alliances, and maintaining Israel as a moral and just state. It is therefore in our interests to separate—otherwise, we can no longer be a democratic state or a state with a Jewish majority. The problem is that the only question the political system is engaged in is about either being for or against settlements, and how to prevent further dismantlement of settlements. The entire system is being driven by pressure from the settler leadership, everything from distribution of resources to security issues. Today, the settler lobby is in total control of the Likud and the Israeli Right, and thus of the entire political system."
Photos: Chen Galili
Brigadier General (ret.) Udi Dekel, Director of the Institute for National Security Studies: "The discussion is about end states rather than about the process that leads to them. The most stable scenario is that of a two-state solution as part of a comprehensive agreement. This outcome, and the scenario of establishing a Palestinian state with temporary borders (not as part of a permanent agreement), are both predicated on a Palestinian entity that is responsible, stable, cooperative, and functioning. It is thus in Israel's interests, together with the Arab world and the international community, to help the Palestinians create a proper basis for effective governance. During the workshop, it became worryingly apparent that we could slip into a one-state reality because of the reluctance of our leadership to make difficult decisions. This would be preferable from the perspective of a group containing the Israeli Right, the young generation of Palestinians, and even Arab citizens of Israel, on the assumption that this one state would be a 'state of all its citizens.' The more one goes into the details, however, the more it becomes clear that this would be an unstable situation that would raise a host of problems, make it impossible to reach agreement, reinforce the national and religious identities of the two societies (Jewish and Arab), and possibly even lead to civil war. We must therefore change direction, from a slide toward a single state with two very different societies in terms of identity and rights, and instead create the conditions for separation and forming a two-state reality."
Yohanan Plesner, President, Israel Democracy Institute: "The Palestinians and the Israeli political systems share an inability to make difficult decisions, and as a result, although there is no broad public support for this, we are in fact moving toward a reality of a single state between the Jordan River and the Mediterranean. In 1967, we annexed East Jerusalem and announced our intention to create a unified city. Anyone familiar with the realities on the ground knows that this intention remains unfulfilled. Jabel Mukaber and Shuafat are not, in practice, part of a unified Jerusalem. Having failed to carry out the unification of Jerusalem, there is no likelihood that we would succeed in unification at a national level. That is, reality teaches us that we cannot have a Jewish, democratic, egalitarian state within a single-state scenario, which is where we are currently heading, even if we have not consciously decided to do so."
Oded Revivi, Head, Efrat Local Council: "I fully understand that, if we go with one state, then we will grant equal rights, and so we could end up with an Arab Minister of Defense. I don't think that all Israeli citizens understand this. But then, I wish it were the case that we could rely on the Arabs and live with them together. In Judea and Samaria, the settlers have managed to create a reality of coexistence. The settlements are not an obstacle to peace; the joint industrial zones in Judea and Samaria are an island of peace."
Dalia Halabi, Director of Dirasat, the Arab Center for Law and Policy: "The possible Israeli response following a contraction to the 1967 borders is a return to strengthening Jewish elements and Jewish national identity. This could lead to the development of radical nationalist ideas, including even ideas about transferring the Arab citizens of Israel, and viewing the Palestinian minority in Israel as a scapegoat. Thus, before anything else, we need to be concerned with reconciliation."
Jody Barrett, Head of the Regional Affairs Unit, Office of the UN Special Coordinator for the Middle East Peace Process: "Since Oslo, the international community has reached the conclusion that the two-state solution is the only possibility for achieving peace and security and answering the needs of both sides. The scenario of a two-state solution without a formal agreement is a far more complex one for the international community, unless this were defined as an interim stage toward a comprehensive permanent agreement. A state that does not control its borders is an anomaly, and it would be difficult for the community to accept it unless it were a step on the road to a permanent solution."
Dr. Adv. Hiba Husseini: "We, the Palestinians, do not believe that having a single state is a sustainable solution, and the status quo is problematic because it harms the possibility of reconciliation, the legitimacy of our leadership, and our ability to reach an agreement. I know that there are doubts about our leadership's capacity for attaining an agreement and implementing it. But all those who claim that there is no legitimate Palestinian leadership and no partner, should understand clearly that the relatively quiet security situation exists because the Palestinian leadership ensures that things remain calm."
Prof. Mordechai Kremnitzer, Vice President for Research, Israel Democracy Institute: "Even should settlements be dismantled, the settlement enterprise can be framed as a tremendous accomplishment for the State of Israel. When their ideals are being shattered, people should be able to come out of it with their heads held high, rather than defeated. There are tremendous advantages to an agreement, such as getting rid of the moral problem of controlling the lives of another people, even if they do have a parliament. We would also do away with the need to demonize the other and canonize ourselves, which is a feature of every conflict between two peoples. This would be an opportunity for Israel to make great strides forward, such as establishing a constitution, and shifting the Israeli political system to a more normalized condition in which debate is focused on socioeconomic issues."
Sunday, June 4, 2017, Israel Democracy Institute (IDI), Jerusalem:
10:00-12:30 | Continuation of the Status Quo Scenario
Led by: Col. (res.) Gabi Siboni; Yair Sheleg
Participants:
Dan Shapiro, former United States ambassador to Israel, INSS
Prof. Yedidia Stern, IDI Vice President
Adi Mintz, former director general, Yesha Council
Qassem Khatib; Dr. Anat Kurz, INSS; Ben-Dror Yemini,  Yedioth Ahronoth
Tzvia Greenfield, former MK (Meretz)
Maj. Gen. (res.) Gershon Hacohen, Research Fellow, The Begin-Sadat Center for Strategic Studies
Prof. Yoram Peri, Director of the Joseph and Alma Gildenhorn Institute for Israel Studies, the University of Maryland
1:30-3:00 | Summary
You are cordially invited to attend and participate in the various discussions.
INSS and IDI will broadcast the event live, via their respective websites.
IDI and the Institute for National Security Studies (INSS) Analyze Possible Political Scenarios and their Implications for Israel on the 50th Anniversary of the Six-Day War
Former US ambassador Dan Shapiro: "If Israel ends the dialogue that expresses support for a two-state solution, many Americans will begin to feel uncomfortable about the Israeli issue."
On Monday, June 4, a second discussion was held at IDI, as part of a joint effort between n Israel Democracy Institute and the Institute for National Security Studies (INSS). The forum convened to discuss possible scenarios for Israeli democracy, 50 years after the Six-Day War. Among other options, participants discussed the possibility of continuing the status quo in the territories.
Dan Shapiro, Former US Ambassador to Israel and Senior Researcher at INSS: "Even if the current situation continues, it is hard to see the United States deviating from its continued support for a two-state solution. The question is whether Israel will continue to strive for such an arrangement. If this turns out to not be the case, a conversation will begin that will cause many Americans to feel uncomfortable.
"With regards to Europe, much depends on what the Palestinians will say and do, but if talk about a one-state solution gains traction, it could receive the support of European countries, based on the concept of 'one person, one vote.' Another alternative is that the Europeans will decide to officially recognize a Palestinian state."
Maj. Gen. (res.) Gershon Hacohen, Research Fellow at the Begin-Sadat Center for Strategic Studies: "In contrast to the current discourse, maintaining or even increasing the number of settlers in Judea and Samaria has bolstered security. If in another 20 years there are 600,000 settlers in this region, such a development will be to the IDF's great advantage, since it will then be able to hold on to vast amounts of territory with very few soldiers."
Yohanan Plesner, IDI President: "Twenty years ago, I would have predicted that today's situation would be worse than it is, in terms of international pressure [on Israel]. However, I could not have imagined the persecution of the country's courts and media. Today, we are witnessing an internalization of the conflict, and it is obvious that there is a connection between the attacks on the Supreme Court and its 'interference' in the administration of the territories."
Adi Mintz, Former Director General, Yesha Council: "We have to shatter the myth of [Israel] ruling over another people. People such as me, who meet and talk to people in the area, see that the language spoken in the region is amazing and completely different from the language of 'rights' and 'occupation.' In the next 20 years, there will be a million Israeli residents in Judea and Samaria, and the ratio of Jews to Arabs will be 35 percent, since the demographic momentum has shifted. If the current situation continues, there will be a slow decline in the perception that there is a chance to reach a two-state solution and thus we will be able to allow the Palestinians to live better lives within an autonomous framework."
Qassem Khatib, Journalist: "If the current situation continues, the alienation between Arabs in Israel and Palestinians, as well as the state of Israel, will intensify. The result will be that Arab citizens will continue to be perceived as enemies and thus be isolated."
Dr. Tzvia Greenfield: "There is no such thing as continuing the status quo; there is only a move toward annexation. Already, the bureaucratic system is being reduced. If the current situation continues, actions such as the Nationality Law will increase the possibility of [Israel] controlling the entire area between the Mediterranean Sea and the Jordan River - and evading the consequences of democratic participation of the Palestinians in the Israeli government. Implementing such policy objectives will also necessitate the weakening of all other democratic institutions."
Dr. Anat Kurz, Senior Researcher at INSS: "If the current situation continues, the tension between Fatah and Hamas will intensify, and there will be a sense of failure. What once appeared to be momentum during a period of political process will devolve into disappointment and fan the flames, which could cause an explosion. The continuation of the current situation could also lead to the emigration of a strong population of intellectuals and well-to-do people, which would make the entire region hopeless."
Prof. Yedidia Stern, IDI Vice President: "Everything we presented today could have been presented in 1997, and even then we would have thought it would turn out worse. Today, the situation is that the physical survival [of Israel] is guaranteed, the self-confidence of Israelis is greater than 50 years ago and the state of the economy is fantastic. But the biggest price we are paying for this is that Israeli society is in quiet disagreement over other issues. The majority of Israelis still vote in elections according to the political issue, they position themselves between the Right and Left and it's hard to imagine an alternative reality. In 20 years, who will remember that we once all agreed on the 1948 borders?"
Prof. Yoram Peri, Senior Research Fellow at INSS: "If the current situation remains, there will be a transformation in society. Israel will not be destroyed, but will undergo an internal collapse. The danger isn't existential, but rather the result will be a profound internal change. These processes will bring us to places that we do not want to go, similar to what happened in France and Algeria. There will be a different kind of regime here; Israel will not be a democracy, or at least not a liberal democracy."
Prof. Mordechai Kremnitzer, IDI Vice President: "It is impossible to understand the talk about autonomy or half a state, which is the result of our perception as Israelis that we are entitled to something that the other side is not. The fact that there are no Israelis who say that they are fed up with democracy is not comforting. Some Israelis say that Arab citizens of Israel have no place in making decisions on certain issues and that they want to make participation in making decisions conditional on expressing trust in a Jewish state. Therefore, there are serious consequences for the continuation of the status quo. "