Op-ed
Heart vs. Head: The Case of Hanin Zoabi
On July 29, 2014, the Knesset Ethics Committee banned MK Hanin Zoabi from parliamentary activity for a period of six months, following complaints of incitement. Prof. Mordechai Kremnitzer and Admiral Ami Ayalon argue that while the heart has difficulty defending Zoabi's freedom of expression, the head demands that we object to the sanctions against her.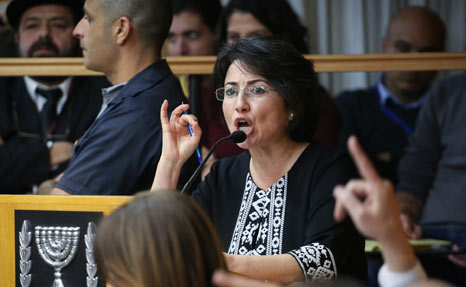 Published in: Walla News
 The heart finds it impossible to defend MK Hanin Zoabi's freedom of expression. Although she took exception to the abduction of the three Jewish teens, her assertion that kidnappers are not terrorists (made before it was known that the boys had been murdered) indicated that she lacks the human sensitivity that is expected when harm is caused to innocent civilians who are not involved in combat, whoever they may be. This assertion also indicates a lack of basic understanding regarding the nature of terrorism. Unfortunately, MK Zoabi is not the only one with this type of opinion; many others feel the same way—Jews and Arabs alike. Other statements that she made, such as her encouragement of Palestinians to impose a siege on Israel rather than negotiating, are also objectionable.
The head, in contrast, demands that we object to the decision of the Knesset Ethics Committee sanction MK Zoabi with the most severe punishment in its possession, a penalty that is totally disproportionate to the punishments that were meted out in prior cases: a ban that forbids her to attend any plenary sessions or committee meetings for a period of six months (unless there is a Knesset vote). And when there is a conflict between the heart and the head, it is the head that triumphs.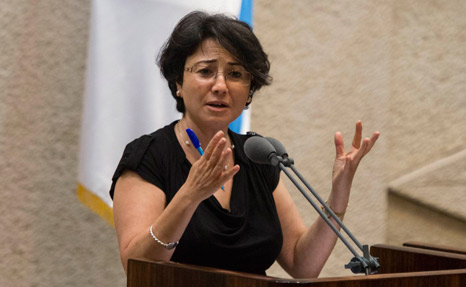 The Knesset's Ethics Committee is not meant to serve as a kindergarten teacher, deducting points for inappropriate remarks made by members of Knesset. It is also not supposed to be a forum for letting off steam by imposing punishments in response to annoying and outrageous statements. The decision of the Ethics Committee violates freedom of expression, which is the lifeblood of democracy. It strikes this freedom at its very core, affecting freedom of political expression and the freedom of a Knesset member to represent his or her constituency. Knesset members are elected in order to exercise this very freedom. What makes the violation of freedom of expression even worse is the fact that the Knesset member who is being silenced in this case is a Palestinian, who represents a minority on issues that the political majority would like to sweep under the carpet and remove from public debate, such as Israel's settlement policy and its implications for relations between Jews and Arabs. It is impossible to overstate the importance of deep and intense public debate on these issues.
The Ethics Committee's decision implies that it found Zoabi's statements to include encouragement for people who rise up against the state and seek to kill its soldiers and citizens. The problem is that this part of the committee's decision is at odds with the legal opinion that was issued by the Attorney General regarding Zoabi's comments on the kidnapping. A judicial opinion is preferable to a political judgment by peers.
The committee attributed to Zoabi a breach of the fiduciary duty of members of Knesset, because her words are inconsistent with the best interests of the State of Israel. This may be how supporters of the government's policy perceive the situation, but it is a fundamental error to make decisions about Israel's best interests based on this point of view. People who take exception to the government's policy regarding the territories and their inhabitants, and see this policy as contrary to the best interests of Israel, will see this matter differently. There is no need to adopt the latter view and take exception to the government's settlement policy. The fact that this view is legitimate—and it most certainly is—is sufficient to undermine the basis of the committee's decision. If the limits of freedom of speech in the Knesset are determined by a particular political worldview, there is no freedom of speech for Knesset members.
The attitude of the committee, which accused Zoabi of eroding public confidence in the Knesset and damaging its image—an accusation that was also "included in many of the complaints received by the committee"—is also very dangerous. If the committee begins to make decisions based on public opinion and complaints from the public, anti-liberal circles in Israel will be able to remove anyone with whom they disagree from the Knesset with ease.
In the midst of the sea of inappropriate remarks being uttered in Israel today, some simply racist and others actually criminal, it is a flagrant injustice to single out Hanin Zoabi for punishment. Foreign Minister Avigdor Liberman asserted that "not only are the kidnappers terrorists but Hanin Zoabi is a terrorist too," and called for a boycott of Arab shops whose owners closed their businesses in protest of Operation Protective Edge or in solidarity with Palestinian civilians in Gaza. Zoabi's statement had minimal influence, if any at all; the same, however, cannot be said for Liberman and his statements. Singling out Zoabi for sanctions by the Ethics Committee is an act of discrimination. It reveals the grave danger inherent in giving punitive power to a political committee: it is possible for that power to be influenced by political considerations and to be used against the minority.
The Ethics Committee's decision is ill advised and is detrimental to the interests of the State of Israel. Yes, it is detrimental to the good of the country. It is impossible for the government to silence views such as those expressed by MK Zoabi without striking down Israeli democracy to its very roots. Those who are attempting to gag Zoabi are actually increasing her power and testifying to their own weakness. A Knesset that silences a voice that represents the minority diminishes its own standing and damages Israel's democratic resilience. The Ethics Committee has given Zoabi a gift: the only democracy in the Middle East is now a bit less democratic.
Those who are angered by Zoabi's statements and do not necessarily support the government's policy must remember that those who do not protect Zoabi's freedom of expression today may find their own freedom of expression suppressed in the future. 
---
This article was first published in Hebrew on the Walla news portal on July 31, 2014. 
---
Prof. Mordechai Kremnitzer is Vice President of Research of IDI and a Professor Emeritus and former Dean of the Law Faculty of the Hebrew University of Jerusalem.
Admiral Ami (Amichay) Ayalon is a Senior Fellow at IDI, a former director of the Israel Security Agency (Shin Bet), and co-founder of Blue White Future.